Dear all,

Thank you for your prayers and positive vibes. They have been answered. Furby has recovered fully now and no longer in pain. But she has gone on to a better place because God loves her more and wants her old and weary little body to rest.
Her condition deteriorated further yesterday and she started rejecting the saline drips and jabs due to blood clot. The vet gave her a drug to thin her blood but it didn't work. There wasn't anything else the vet could do so the only humane thing to do is to let her go.
No one knows why her kidneys failed. It happened so suddenly without any signs. Although it's hard to let our little furry friends go, it's harder still to cling on and watch them suffer in pain, isn't it?

Run free, Furby. You have earned your angel wings.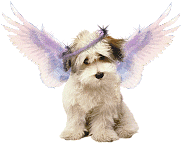 Wings are not only for the birds above
for God gifted you with a dog to love

He knew the love that you could give
for he knew the perfect place for that dog to live

and as you have a void that can't be filled
remember that your memories can't be killed.

The love you gave to your four legged friend
is a gift of love that will help you to mend.

Love from above will always be felt
as the wings are added your heart will melt

When you are feeling low
you will still have a place to go

for you can always talk and share
with a friend who will always be there.